The winner of the 9th edition of IMPALA's Album of the Year award is V**GRA BOYS with "Street Worms", released on Swedish independent label YEAR0001. V**gra Boys succeeds previous winners including Gurr, Agnes Obel, The xx, Adele, Guadalupe Plata, and Efterklang.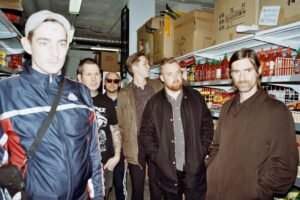 Sweden's worst kept secret, V**gra Boys (** because of spam filters) is a garage-rock /post-punk band. Their critically acclaimed debut album "Street Worms" was released in September 2018 and followed the release of the video for the album's standout track, "Just Like You" here.
Produced by Daniel Fagerström (Skull Defekts, Chronic Heist) and Pelle Gunnerfeldt (Fireside, The Hives) "Street Worms" is twisted post-punk. It is the group's debut album, the logical continuation of a set of EPs, which they are currently promoting through heavy touring, most recently in North America. You can find their upcoming tour dates here.
"Street Worms" was released on YEAR0001, the Swedish indie label based in Stockholm. YEAR0001's manager and co-founder Oskar Ekman commented on the album: "I booked them a studio session try out with an old friend of mine, pretty much just to see if they catch a vibe. After the first 3 days of recording, I was invited to the studio. The room was filled with energy and expectation. They started playing the songs. "Slow Learner", "Just Like You", "Sports" and I was completely floored. I knew then and there I would dedicate the next few years and all our money on this project."
IMPALA's Chair Helen Smith commented: "This was yet again an exciting shortlist of nominees this year. it's great to see so many independent acts flourishing all over Europe. Congratulations to Viagra Boys. Street Worms is a fantastic album – we feel like this award is just the first of many for them. ".
Read our full interview with Viagra Boys.
Read our full interview with Oskar Ekman for YEAR0001.
You can find more about the band below and on their website.
 The band will receive the IMPALA award around their show at The Great Escape in Brighton on 11th May.