Brussels, 7th February 2018
2018 was a great year for European independents and it's time to have a look at the pick of the bunch: there are no less than 18 nominees for this 9th edition of our album of the year award, showcasing once again how Europe's independent music sector is thriving.
Nominees include a wide range of genres and artists, from an Estonian psychedelic dream-pop band to Croatian surf rock and from a Portuguese collaborative project to an Italian artist who managed to reach number ones in both European and U.S. charts at the same time.
Who will succeed German garage-pop band GURR as winner this year? Answer later this month!
The complete list of nominees
(in alphabetical order by artist/name of the album/record label):
ALONDRA BENTLEY – "Solar System" (Mont Ventoux)
ANDREA BOCELLI – "Si" (Sugar Music)
BLACK SEA DAHU – "White Creatures" (s-r/Mouthwatering Records)
CHRIS "Chris" (Because Music)
HAIKU GARDEN – "Where If Not Now" (Kapa Records)
ICEAGE – "Beyondless" (Escho/Matador)
NIELS DESTADSBADER – "30" (CNR Belgium)
NOGA EREZ – "Off the Radar" (City Slang)
OLD JERUSALEM – "Chapels" (s-r)
POLIFAUNA – "You Look Like A Lost Soul" (s-r)
RACOON – "Look Ahead and See The Distance" ([PIAS])
RUUSUT – "Ruusut" (Fullstream)
SONDRE JUSTAD – "Ingenting I Paradis" (Petroleum Records)
SOPHIE – "Oil Of Every Pearl's Un-insides" (Transgressive)
STRAY DOGG – "Look At The Moon" (Odličan Hrčak)
THE STRANGE – "Echo Chamber" (Dancing Bear Records)
ÚSGIN ŰVER – "Patak" (Mana Mana)
VIAGRA BOYS – "Street Worms" (Year0001)
IMPALA's Chair Helen Smith commented: "This prize is for the most exceptional independent album of the year. We have a great shortlist again, highlighting one key factor: independent music continues to excite all listeners. It's now down to the jury to decide who the deserved winner will be."
Listen to the nominees….
A full album playlist – IMPALA Album of the Year Award nominees 2018 (albums) – as well as a short playlist – IMPALA Album of the Year Award nominees 2018 (singles) – are available on Spotify to allow you to judge for yourself in advance of the winner's announcement.
Please note that The Strange's album might not be available on Spotify in your territory. Should it be the case, please make sure to use Bandcamp to stream it.
….or catch them live!
IMPALA European Independent Album of the Year nominees will be present for showcases and artist talks at M4Music in Switzerland, C/O Pop in Cologne, The Great Escape in Brighton, Primavera in Barcelona and MIDEM in Cannes. Make sure not to miss them!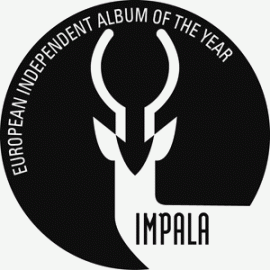 About the Independent Album of the Year Award
The "European Independent Album of The Year" award was launched in 2011, together with the annual "Outstanding Contribution to European Music" award, to mark the 10th anniversary of IMPALA. This award showcases the breadth and diversity of independent talent across Europe. The winner is selected on the basis of completely open criteria from a shortlist compiling national album nominations from territories across Europe put forward for their musical, artistic or other exceptional quality. Nominated albums were required to have been released on a European independent label between January and December 2014. Previous winners of the Award are Efterklang, Adele, The xx, Caribou, Guadalupe Plata, José Gonzalez, Agnes Obel and GURR.